Mod's
Aluminium Enteloxieren
Wie man die meist Farbige Oberfläche entfernen kann ohne mechanische Bearbeitung.
Die Eloxalschicht auf dem Aluminium wird mit NaOH (Natonlauge) entfernt, dafür eignet sich Drano oder Mellerud Rohrreiniger.
Write comment (1 Comment)
Bedroom Light
making this:
With some metal bars and LED´s!
Write comment (0 Comments)
Arduino RAM Overflow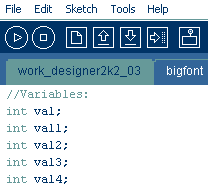 heavy coding and with just another variable or after some seconds serial transmitting nothing works as used?
Could happen that you ran out of RAM, more special the SRAM as its called on the ATmega´s.
Lets digg into it and look how to get it sorted!
Write comment (0 Comments)
Hello, Hallo,
[english]

im proud to announce that the second batch of prints has arrived!!! 


20 sets are avaiable, should be enough for everybody, i hope... 


You can have as many as you want, for 60€ per set i send them worldwide 


Interested? See here: MDforum/OrderThread

with greetings from Austria,
Stephan Martin

[german]

das 2te Set Prints ist angekommen!!! 


insgesamt 20 Sets sind verfügbar, sollte für jeden reichen, hoffe ich


Für 60€ pro Set versende ich Weltweit, jeder kann haben soviel er will 


Interesse? Hier gehts weiter: MDforum/OrderThread

Grüße,
Stephan Martin
Write comment (2 Comments)
Subcategories
Elektronic's

Mods aus dem Bereich Elektronik

Article Count:

20

Technik

Technikrelevante Dinge die sonst nirgends passen

Article Count:

19

Auto

Article Count:

9

Arduino

Article Count:

17

RC

Mods rund um Ferngesteuertes!

Article Count:

2