Mod's
Golf 3 Dachantennendichtung tauschen
vorher:
nachher:
Dafür benötigt man von VW den Dichtungsssatz:
Teilenummer: 3B0 051 751 (ca 7€)
Dann muss bei geöffneter Heckklappe die kleine Verkleidung vom Himmel runter
und die C Säulenverkleidung ein Stück weg: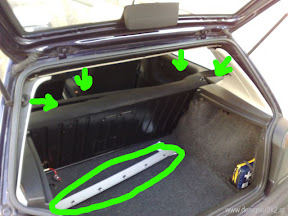 Den Himmel vorsichtig ein Stück runter drücken, wenn man zu fest drückt knickt er!
Dann sollte man schon das Kabel sehen:
Stecker aufmachen, dafür die Schwarze Hülle im Bild zu sehen wegschieben:
Und offen ist das Kabel:
Als nächstes die Spezialmutter lösen:
Und die Antenne nach oben vorsichtig rausziehen:
Alt / Neu: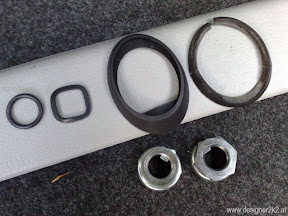 Neuen Dichtring auf den Antennefuß setzen: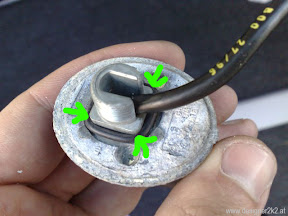 Das Antennenloch reinigen und eventuellen Rost entfernen / versiegeln:
Mit neuer Dichtung wieder anschrauben (nicht übertrieben fest)
Und alles wieder Rückwärts einbauen.
Dann sollte es so aussehen:
Wieder ansehnlich und das Dach rostet nicht durch
Write comment (0 Comments)
Billiger Tempomat im 3er Golf
Man kann im 3er Golf TDI für unter 10€ einen Tempomat einbauen, so einfach gehts:
Die Idee kommt von hier: http://kfz-meister-betriebswirt.de/GRA_Anleitung/GRA.htm
Nur hab ich auf dein Ein / Aus Schalter verzichtet und nur 2 Taster in die Lenkstockverkleidung gebaut:
Der Obere ist "Setzen / Beschleunigen" der Unter ist "Wieder Aufnehmen"
Sobalt man Kupplung oder Bremse antipt geht er wieder aus, super easy
Write comment (0 Comments)
RC Boat Datalogger
The RC boat of a friend had some problems with the nitro engine, but without data its not easy to adjust it.
So a Arduino with some thermocouples got installed logging data onto a SD card.
Just imagine driving around and then pull out the SD card from your boat and analyze the data on a notebook 
Write comment (0 Comments)
Subcategories
Elektronic's

Mods aus dem Bereich Elektronik

Article Count:

23

Technik

Technikrelevante Dinge die sonst nirgends passen

Article Count:

20

Auto

Article Count:

14

Arduino

Article Count:

19

RC

Mods rund um Ferngesteuertes!

Article Count:

2