Arduino
Arduino Battery Tester
a small project to test 1S Lipo batterys used in micro Helicopters with the help of a Arduino.

An Arduino shield with mosfets switches big load resistors until the Lipo is drained,
and transmitts the current voltage over the USB Port to the PC.

Sourcecode, Diagramms and more after the break!

Write comment (3 Comments)
Arduino I/O Protection
When your project moves to a level where you start making a dedicated case for it to protect it from the environmental influences, what do you do to protect the exposed signal lines from the harsh world outside?
Write comment (0 Comments)
Bedroom Light
making this:
With some metal bars and LED´s!
Write comment (0 Comments)
Arduino RAM Overflow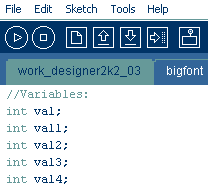 heavy coding and with just another variable or after some seconds serial transmitting nothing works as used?
Could happen that you ran out of RAM, more special the SRAM as its called on the ATmega´s.
Lets digg into it and look how to get it sorted!
Write comment (0 Comments)
TypK to RGB Led
this little circuit reads a Typ K Thermocouple and indicates the Temperature with an RGB LED.
Read more:
Write comment (0 Comments)