Arduino
Arduino RAM Overflow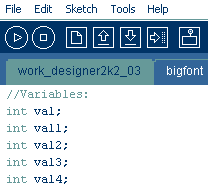 heavy coding and with just another variable or after some seconds serial transmitting nothing works as used? 
Could happen that you ran out of RAM, more special the SRAM as its called on the ATmega´s.
Lets digg into it and look how to get it sorted!
Write comment (0 Comments)
TypK to RGB Led
this little circuit reads a Typ K Thermocouple and indicates the Temperature with an RGB LED.
Read more:
Write comment (0 Comments)
RC Boat Datalogger
The RC boat of a friend had some problems with the nitro engine, but without data its not easy to adjust it.
So a Arduino with some thermocouples got installed logging data onto a SD card.
Just imagine driving around and then pull out the SD card from your boat and analyze the data on a notebook 
Write comment (0 Comments)