Marantz 1090 Phono Disable
Marantz 1090 Phono Disable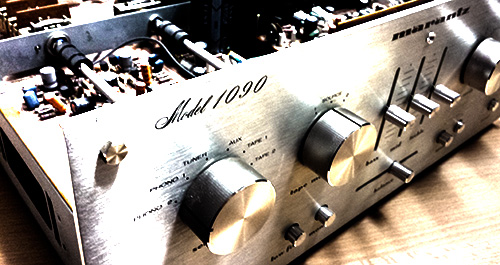 The vintage (build year 1978!) Marantz 1090 amplifier is equipped with 4 regular inputs and 2 phono inputs. We need more regular inputs, so the phono stage was shortcut to get 6 regular inputs, yeah!
To see how its done, click "Weiterlesen"
Marantz 1090 repair manual
First the repair manual is needed, so a quick google "Marantz 1090 repair manual" revealed the schematics, and that shows how to disable the Phono stage:
It needs a bridge from R401 to R429 and a bridge from R402 to R430. This is very easy to do, it seems as it was prepared as an option...
Marantz 1090 Schematics
Only 4 bridges were cut (Blue), and then soldered with some wire again (red):
Marantz 1090 Phono
Then the powersupply to the Phono Stage is removed, for that, only R433 needs to lift one leg:
Thats it, now the Marantz 1090 has no Phono inputs any more, but 6 standard inputs, allowing more now common devices.
If needed it is also possible to revert this modification, so that no reduction in value is given.
This modification should also work on other Marantz Models like the Marantz 1050.
Hits: 5868